Computing at Broadfields:
Broadfields Online:
Google for Education

Class Dojo

Padlet

Flipgrid

WeVideo

Kahoot

Quizizz

Myon

Accelerated

Reader

Mathle

tics

Reading Eggs

Readworks

Timestables Rockstars

LGfL Busythings

JIT

Canva
Philosophy
There are six underlying attributes at the heart of Broadfields curriculum and lessons.
Lessons and units are knowledge and vocabulary rich so that pupils build on what they already know to develop powerful knowledge.

Knowledge is sequenced and mapped in a coherent format so that pupils make meaningful connections.

Our flexible curriculum enables teachers to tailor content to other subjects in the curriculum and the current context.

Our curriculum is evidence informed through rigorous application of best practice and the science of learning.

We prioritise creating a diverse curriculum by committing to diversity in teaching and teachers, and the language, texts and media we use, so all pupils feel positively represented.

Creating an accessible curriculum that addresses the needs of all pupils is achieved to accessibility guidelines and requirements.
Our Computing Overview:
The resources used to deliver our computing curriculum are drawn from a variety of respected and well-known sources that have been created by educators with vast experience in computing and which use research driven pedagogy.
Our curriculum has been divided into three sections: online safety, which is taught predominantly in the Autumn term; digital literacy, taught mainly in Autumn and Spring; and coding, taught in the remainder of the year. There is a more equal split between coding and digital literacy/online safety emphasising the fact that computing isn't just about coding nor 'ICT'. However, in order to give children the tools they need to succeed across the curriculum, digital literacy and Information Technology does feature throughout.
Resources and lessons are linked in the individual year group schemes of work and it is expected that teachers will adapt these to make them appropriate for their class.
At Broadfields, Computing is not limited to Computing lessons, we use technology to enhance children's learning across the curriculum.
Disciplinary Knowledge: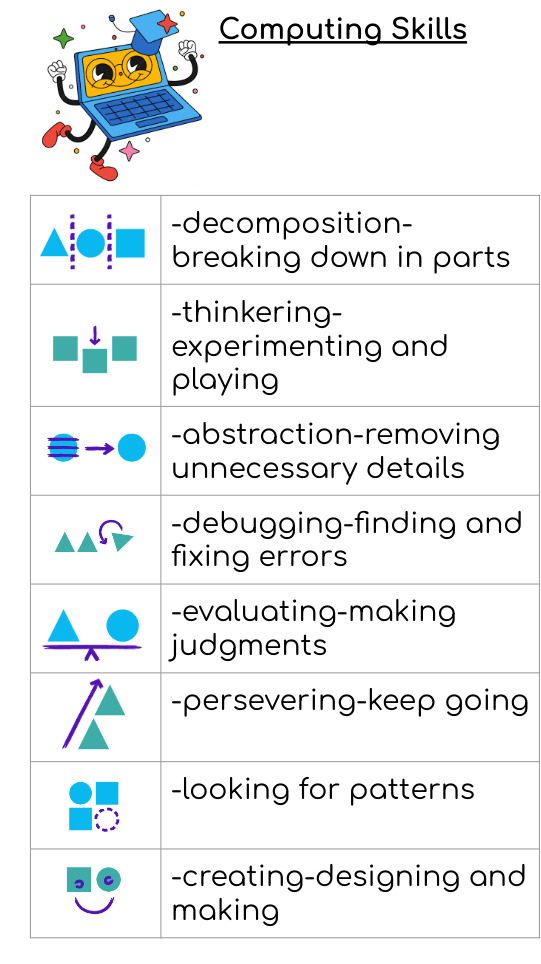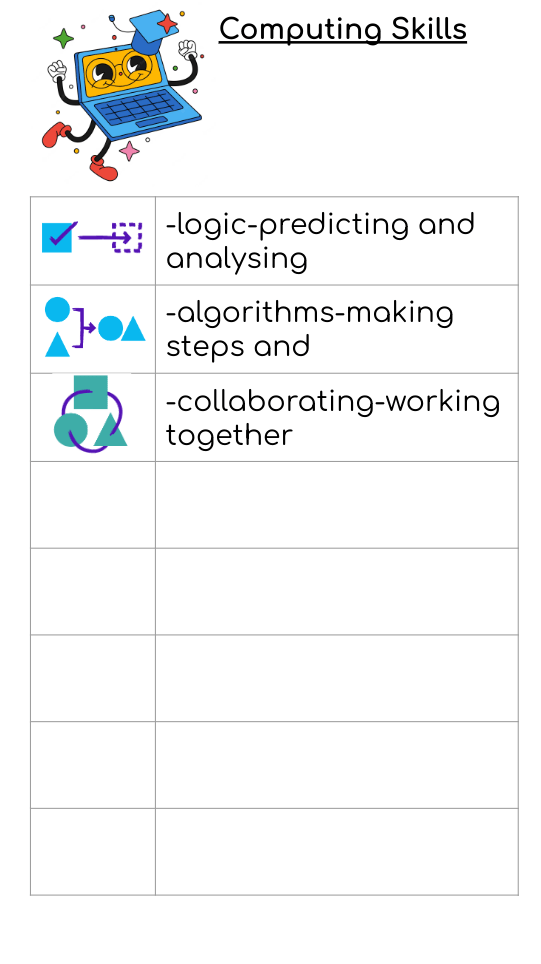 Computer Science at Broadfields
The building blocks of coding in the EYFS
Children explore coding through play and WOW Wednesday carpet sessions in the early years.
Coding in KS1
Children in KS1 uses Scratch Jr. for block coding. Additonally, children explore the functions of a coding bot. They write simply algorithms and are introduced to debugging.